I was sitting in my home office, which conveniently faces the backyard so that I can watch my 5-year-old granddaughter in the yard as she plays, when the doorbell rang. It was a young male - probably college-aged, with that already perfected salesman grin on his face. I was already shaking my head no before he began his well-rehearsed sales pitch, prefaced, of course, of his need for college funds. In actuality I do subscribe to several magazines, but I refuse to purchase them from the door-to-door sales crews.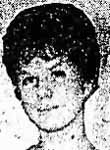 Mary Ann Switalski has a lot to do with that decision.
It was the summer of '63, the Beatles were taking over Great Britain, and "I Want To Hold Your Hand" was becoming a smash hit, while the Safaris hit the music charts with the compelling instrumental 'Wipeout'. Fifteen thousand U.S. advisors were in Viet Nam, the U.S. Congress passed the 'equal pay for equal work' bill, New Hampshire previewed the first state-run lottery, and in the hazy days of that summer, no one could foresee the events that would forever change America come November 22nd, when President John F. Kennedy would be assassinated in Dallas.
On the evening of Sunday, July 15th, Mary Ann Switalski, age 16, headed out from her north side Chicago home to a local carnival, which was being held on the grounds of St. Priscilla Catholic Church. The carnival location was a little over a mile from the Cornelia Avenue home Mary Ann shared with her parents. On that balmy summer night, the pretty, petite, hazel-eyed blonde wore a black sleeveless blouse, white shorts and straw sandals. The temperature had reached a high of 81 earlier in the day, gradually dropping into the evening. By the time Mary Ann should have been walking home, the temperatures were downright chilly, as they headed toward a low of 57. But Mary Ann didn't walk home; in fact, she never got home at all.
If the police initially suspected foul play in the high school senior's disappearance, it isn't readily apparent 44 years after she was last seen. Although she failed to return home on July 15th, the first media report appeared on August 7, 1963, 3 weeks later, and did not come from law enforcement. The Chicago Tribune headline reads: "Mother Asks Help in Finding her Daughter". The short article reported only that Mary Ann failed to return home and gave a brief description of her, along with a photo.
The next (and last that I've located) media report came 6 years later, in August, 1969, when a story appeared that provided information that it was suspected that Mary Ann may have willingly left to join a traveling magazine sales crew headed to California. It states that, in 1965, the FBI spoke to a man and woman who headed a sales crew that was in Chicago when Mary Ann vanished. Both agreed that Mary Ann had been hired but there their stories differed: the woman reported that Mary Ann left with the crew for California - her husband said Mary Ann never left Chicago.
There was a letter - mailed to her parents just two days after Mary's disappearance, from Oak Park, Illinois - a little more than 4 miles from her home. In it Mary Ann says that she "is fine and going to make money to take care of them".
Every time I reread that article and get to the part where she states that she is trying to make money to take care of her parents, I lose it. Her Mother establishes a reward fund, with money earned from taking a part-time job but the reward goes unclaimed. For years, her parents run ads in the personal columns looking for someone to come forward with information, but no one does.
It will take 40 years before the deeply held secrets of the traveling magazine sales crews surface. Through the work of Parent Watch Inc., a clearinghouse for information on the door-to-door sales industry and www.magcrew.com, resources formerly out of reach for parents of missing children or stranded sales crew workers are now being made available.