My good friend's daughter (my Godchild) had a baby last Sunday - a beautiful, healthy baby boy. Although my friends now live thousands of miles away, today's technology allowed me to see pictures of him and his proud grandparents on the same day he was welcomed into the world. Today's technology - what a wonderful thing.
The Internet allows us instant access to information in a way not possible 27 years ago, when six-year-old Sarah Elizabeth Avon disappeared from her family's front yard. The little girl was reported as missing from her family's home in Joliet, Illinois around 9:00 PM on July 21, 1981. Sarah and her sister, younger by a year, joined their friends where Richards Street ends. Sarah walked away after disagreeing with a young companion. She never returned home. She has never been seen since and there are few clues as to her whereabouts. She was 5 months younger than my son, and a 11 months older than my daughter.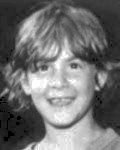 Twelve years after Sarah vanished, Will County Sheriff's police began excavating property on the southeast side of Joliet in the hope of recovering the little girls remains. The search, based on a death-bed map drawn by the former property owner, was unsuccessful. The property owner's son, fifteen at the time of Sarah was abducted, implicated himself in her disappearance and death, according to his relatives, but he denied involvement when questioned by law enforcement. He has never been charged. Newspaper reports in 1993, at the time of the property search, indicated that the possible suspect was a "long time mental patient who now lives in California".

I hope California has been watching him. Really watching him.

Sarah Elizabeth Avon is forever trapped in time - a six-year-old child, playing on the streets on a hot summer night, when this was a different world. A world absent the media blitz that may have happened today, a world without an Amber Alert system, a world without the resources that may have helped bring thousands of people out to search, a world where we thought she would be safe on her own block.

Closure. Now there's a word. I don't know that Sarah's family would agree, but I don't believe they still are looking for closure after 27 years. I think that happened the day that they realized, truly accepted, that Sarah wasn't coming home. What they need is justice. Someone knows something, someone saw something on the hot July night. We must join her family in not forgetting Sarah. We're the only voice she still has, her only advocates. Even after 27 years, Sarah Elizabeth Avon is still six - she is someone's child - she is missing.